I used to use the term "Simple Solitaire" but I'm not sure there is such a thing!  Who knew there could be so many designs for a solitaire!  In this blog, I'll show you some of the ones we've custom designed for our clients.  Don't see what you want?  We can design it no problem!  Tell us which one is your favorite!  The LS# is located above each set of pictures.
This is a gorgeous, 8mm round Peach Sapphire weighing 2.59 carats in curved "petals" of 14k rose gold.  This is LS5431.
This stunning oval Black Sapphire measures 12x8mm and weighs 6.40 carats.  Its setting features a straight, rounded bar around the side of the setting.  This is LS6436.
Here is a stunning 8mm round White Sapphire of 2.06 carats set in 18k white gold.  Tiny sapphires decorate the basket of the ring.  LS5077.
Here is an "East-West" setting featuring a 6x8mm Emerald Cut Aquamarine of 1.37 carats set in 14k white gold.  LS5228.
We started this setting with an 8mm heart cut morganite.  The setting is based on our Lola and Lily Collections, but with a very rounded shank all the way around.  This is LS6435!
This beauty features an 8.5mm round Forever One DEF Moissanite weighing 1.95 carats, set in a wide band of 14k rose gold.  LS5321
This 6x12mm 1.61 carat Marquise-Cut Tanzanite is Bezel Set in a rounded, thin band of 14k Rose Gold.  LS5034
A stunning 14x21mm 8.38 carat Rectangular Cushion Cut Morganite is held by double prongs!  LS4887
This Statement Solitaire Ring begins with an 11x16mm oval Black Sapphire!  Its sleek, rounded shank and prongs are 14k Rose Gold.  LS5389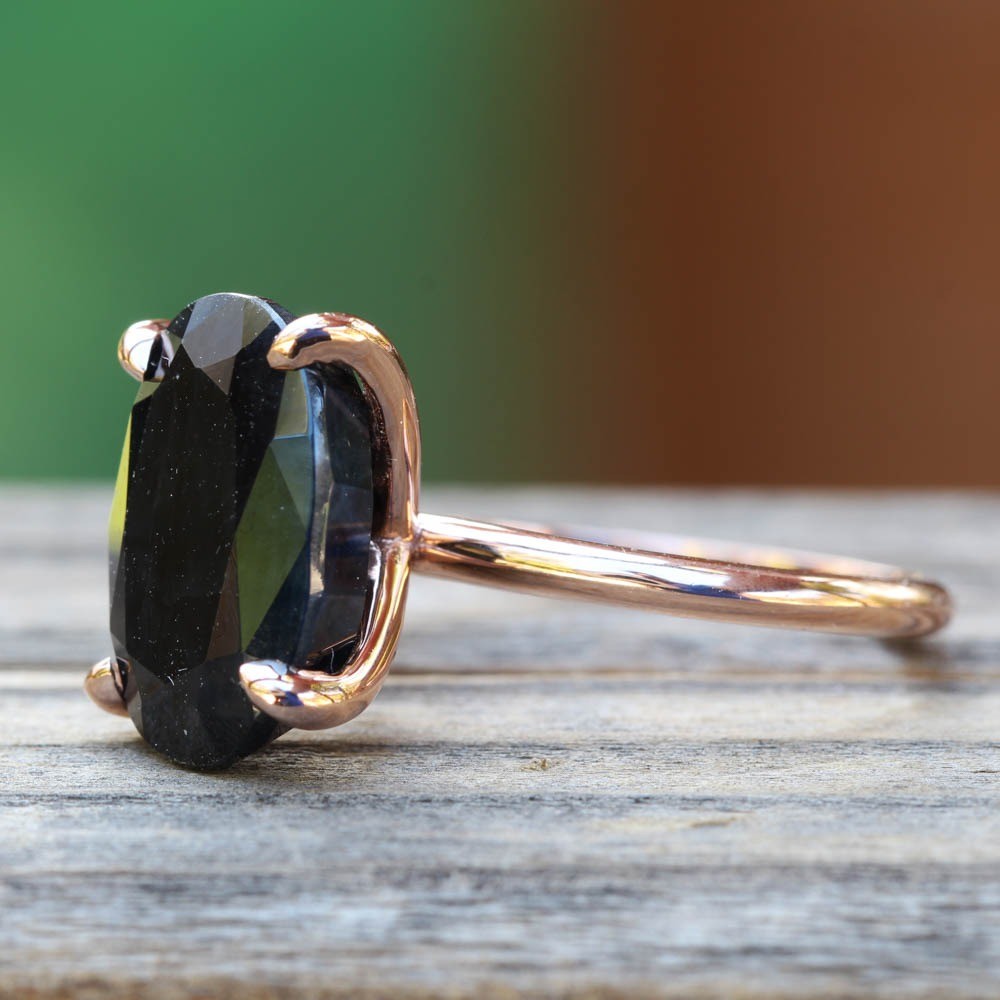 A very unique setting for a very unique Boulder Opal!  This beauty is 10x19mm and weighs 8.49 carats.  The setting features a split shank and double prongs.  LS6004
A rare Padparadscha Sapphire of 3.03 carats is held by a very dainty, 14k white gold setting.  The shank is 1.5mm wide.  LS6069
A 4.13 carat 9x14mm Peachy-Pink Pear Cut Morganite is enveloped with a beautiful design.  This solitaire features Fang Prongs and a rounded shank that tapers into the basket.  LS6006
A super, super dainty solitaire!  This setting has a hole underneath the 8mm square cushion Morganite so the Morganite can touch the skin.  This claw prong setting features a 2.06 carat beauty!  LS5991
A beautiful Baguette cut Wine Red Tourmaline is enveloped in a full bezel of 14k yellow gold.  The setting is made so that the stone sits as flush as possible to the finger.  LS5043
This 18k rose gold setting has just a small bar of gold under the gorgeous 8x12mm 2.98 carat pear cut morganite.  LS5963
An 8mm, 2.48 carat Princess Cut peachy pink Morganite sits elegantly in this double basket setting and thin, rounded shank.  LS6091
This sleek setting is as minimalist as you can get.  The squared off band rises up to hold an 8mm round Hearts and Arrows Forever One DEF Moissanite.  LS5147
The Sun, Moon, and Stars are hers with this Diamond Solitaire Bridal Set.  Shown with an F, SI1 .97 carat round diamond.  LS6051
Can you see how the prongs on this solitaire ring form hearts??  So special.  This ring features a 7mm light pink Morganite.  LS5099
So many people loved the soft "Lily Petals" of gold that envelope the center stone that we made a whole collection out of this design – our Lily Collection.  Seen here with a 14x10mm Emerald Cut Morganite weighing 7.63 carats!!  LS5870
This style is popular with nurses and hairdressers – the ring doesn't get caught in hair or on gloves!  A bezel of 18k yellow gold envelopes this Diamond.  It rests on a tube shank.  LS5383
You can't get any more Classic with this Elegant 6 prong Solitaire Engagement Ring.  The rounded shank rises slightly to meet the 7mm round, 1.02 carat Tan Colored Morganite Gemstone.  LS5996
A 9mm 2.33 carat Pure Pink Heart Cut Morganite has a minimalist basket sitting atop a thin, rounded shank.  LS6023
We custom cut this gorgeous 7mm 2.73 carat Blue Zircon Gemstone and then Bezel Set it in 14k rose gold.  The bezel has windows in the side and bottom to allow light to come into the stone.  LS5967
5 Fang Prongs hold this 12x8mm 2.61 carat Pure Pink Pear Cut Morganite Gemstone.  It sits on a 2mm wide square edged shank.  LS5951
This is a true Statement Ring!  a 12mm, 7.73 carat Princess Cut Morganite sits in curves of rounded 14k Rose Gold.  LS6056